Frank's Place
My Service:
Royal Navy 1946-1960
Royal Canadian Navy (Reserve) 1960-1970
---
Please click on the thumbnails
I was always keen to go to sea. I first attended T.S. Exmouth, a navy training school run by the London County Council in 1945. I was there almost 2 years. It was not to the Royal Navy to which I aspired, I wanted to be an officer cadet in the merchant navy.

Cadet № 306 at T.S. Exmouth 1945

It was not to be however and so one cold, dark evening on November 19th 1946, I found myself among a group of other "Nozzers" on a picket boat crossing the harbour at Harwich approaching the jetty of H.M.S Ganges.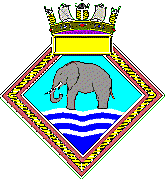 Photographs - courtesy of the H.M.S. Ganges Association Museum

There have been a succession of ships bearing the name "Ganges" in the Royal Navy starting in 1799 when a ship, the ex-Bengal, was given to the Royal Navy by The East India Company and renamed H.M.S. Ganges. Ganges, the "Stone Frigate" which I was about to enter, was first opened as the Royal Naval Training Establishment (RNTE) Shotley at Shotley in Suffolk in 1905. It became officially known as H.M.S. Ganges in 1927 and it remained so until 1976. I knew very little about H.M.S. Ganges at the time I entered but I soon discovered Ganges was still being run as if time had stood still for 100 years. The training was intensive and discipline strict - some might say harsh.
Before going on leave for Easter 1947, we were informed our class would be one of several moving to H.M.S. Bruce at Crail, Fife, Scotland. Compared to Ganges, H.M.S Bruce was a holiday resort. The discipline was still hard but not unbearable. The food was good and we ate our meals from chinaware in a cafeteria and not from tin mugs and plates. Bruce was a former Naval Air station, H.M.S. Jackdaw, during the Second World War.
So started my career in the Royal Navy, which was to last thirteen years and nine months. Seen below are the crests of the ships and establishments I served in and when.
| | | | | | |
| --- | --- | --- | --- | --- | --- |
| | | | | | |
| H.M.S. Wrangler | H.M.S. Zest | H.M.S. Solebay | H.M.S. Swiftsure | H.M.S. Alert | H.M.S. Crane |
| | | | | | |
| H.M.S. Ganges | H.M.S. Bruce | H.M.S. Pembroke | H.M.S. Vernon | H.M.S. Osprey | H.M.C.S. Unicorn |
---
Ship
Rating
Non-Sub Rating
From
To
Ganges
Boy 2nd Class
None
19.11.1946
4.05.1947
Bruce
Boy 2nd Class
None
5.05. 1947
28.11.1947
Wrangler
Boy 1st Class
None
28.11.1947
12.03.1948
Pembroke
Boy 1st Class
None
13.03.1948
14.03.1948
Zest
Boy 1st Class
None
15.03.1948
28.09.1948
Pembroke
Ord. Seaman
None
29.09.1948
5.11.1948
Vernon
Ord Seaman
T.D.3
6.11.1948
7.03.1949
Pembroke
Ord Seaman
T.D.3
8. 03.1949
6.03.1949
Solebay
Ord Seaman
ditto
7.04. 1949
16.08.1949
Pembroke
A.S.
TD 3

0n course for Diver

17.08.1949
29.11.1949
Swiftsure
A.B.
TD 3
30.11.1949
1.09.1950
Vernon
A.B.
TD 3 on course for TD 2
22.09.1950
13.03.1951
Pembroke
AB
TD 2 Embarkation leave
14.03.1951
30.04.1951
Alert
A.B. to Ldg. Seaman
UW 2
1.05.1951
28.12.1953
Pembroke
Ldg Seaman
UW 2
Dec 28 1953
22.03.1954
Vernon
Ldg Seaman to Acting P.O.
UW 2 on course for UW 1
Instructing Mines & Mine Warfare
23.03.1954
8.03.1957
Osprey
P.O.
UW.1 on course for T.A.S. Instructor
9.03.1957
31.05.1957
Vernon
P.O.
T.A.S. Instructor's course
1.06.1957
6.06.1957
Vernon
P.O.
T.A.S.I.
7.06. 1957
3.07.1957
Royal Arthur
P.O.
T.A.S.I. Leadership Course
4.07.1957
28.08.1957
Crane
P.O.
T.A.S.I.
30.08.1958
30.04.1959
Pembroke
P.O.
T.A.S.I.
1.05.1958
19.05.1959
Vernon
P.O.
T.A.S.I
20.05.1959
27.06.1960
Victory (Release)
P.O.
T.A.S.I.
28.06.1960
30.07.1960
---
| | | | | |
| --- | --- | --- | --- | --- |
| | | | | |
| Ordinary Seaman circa 1950 | | Able Seaman with Hedgehog projectile HMS Alert | | Leading Seaman Paybook Photo 1954 |
Petty Officer 1955
London
Chief P.O. RCN(R) 1966
HMCS Unicorn Saskatoon, Saskatchewan, Canada
Proficiency Award - March 28, 1966
HMCS Unicorn, Saskatoon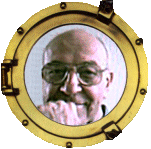 Frank "Lofty" Waterfield

Thanks for stoppping by
---



View My Guestbook
Please sign My Guestbook

Copyright © Frank Waterfield - 2011
Last update: March 21, 2011